| | | | |
| --- | --- | --- | --- |
| | ZYX 4 D | | HiFi News |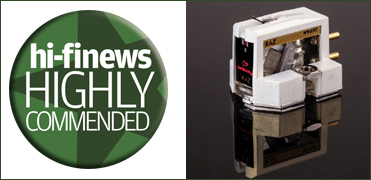 Light as a feather, singing like a bird, this new moving-coil soars high above the competition
In our September 2006 MC cartridge group test, the Zyx R1000 Airy 3 emerged well and I ended up buying the review sample. I've lived very happily with it since. However, now Mr Nakatsuka has produced a flagship MC, which he describes as built 'like the Parthenon'.
He's referring to its skeletal acrylic body, designed to eliminate panel resonances, which results in a net weight of only 4g. This would present a problem for many tonearms, so the 4D has an accessory (SB2) top-plate in silver, which adds 3.9g.
The 4D-X has 0.035mm crystal copper windings, the alternative S or G types have silver and gold. 'H' suffixed models provide double the output voltage. All are cryogenically treated and utilise a boron cantilever with a 'Micro-Ridge' profile stylus offering a claimed 2000 hours life. The box-shape structure allows easy setup, presenting a narrow rectangular notched front which facilitates azimuth adjustment (eg, with unipivots) and subsequent manual cueing. Extreme groove modulations were securely tracked at an ideal 2.0g [see Lab Report] and minimal bias was found to be optimum – I was using the Origin Live Conqueror arm. (One should beware off-centre or rippled discs which may throw the 4D at such high levels.)
INNER DETAILS
In musical terms this meant the difficult vibraharp parts in the Modern Jazz Quartet's One Never Knows [Atlantic] were cleaner than I have ever heard before – though my near-50 year old copy has suffered the indignity of numerous cartridges and surface unguents!
In character, the 4D-X is unlike the more forward-sounding Airy 3-XH. Its most obvious improvement is in the resolution of low-level information, especially with low-register instruments. With Karajan's 1963 DG recording of Stravinsky's Rite of Spring some previously unheard repetitive accompaniment figure could be picked out far back in the orchestra.
A simple – again repetitive – soft vibe pattern on the MJQ LP, was clearly audible under the piano melody in the title track. And the 4D-X makes the music really 'sing', besides having exceptional timbral fidelity – the tapping (perhaps on the piano body), hand-cymbal and drum parts in 'The Golden Striker' were precisely positioned in the soundstage, utterly realistic. The timing aspect is a huge step forward for Zyx – as the Duke Ellington 1940s 78rpm transfers In A Mellotone [RCA] testified.
If there is a downside it's that the 4D-X tells you almost more than you want to know. While it extracts more music from familar records than you will have encountered before, mono or stereo, it also exposes poor transfer engineering or limited range. Surface clicks and groove wear are also noticeable.
But when VTA and downforce are correct, the imaging comes into superb focus. With another of my 'warhorse tests', the Julliards in Bartók's Fourth String Quartet [CBS], the precise moment when the leader lifts his bow in the pianissimo ending of (iii) was breathtaking. What's more, the colours and dynamic shadings of the pizzicato (iv) were vividly rendered, passing from one instrument to another, yet the imaging had a binding full-bodied quality. And even the aggressive lurch into (v) could be enjoyed – well, almost.
NEW INSIGHTS
In more general terms, I noticed something else. Because I was dragging LPs off the shelves I'd neglected for years, and trying composers I don't often listen to anyway – Bach, Schoenberg – I found the 4D-X gave insights into performances not widely admired. Karajan's later Bach Brandenburgs and B-minor Mass, for instance. You could appreciate what he was striving for, and the admirable technical accomplishment in the playing. Recordings thought to be only average in sound quality were shown to be far more praiseworthy: Geza Anda in Mozart's Piano Concerto K467 (used in the film Elvira Madigan), for one.
In short, familiarity with the 4D-X was just like grasping the characteristics of a fine Leica lens: its luminosity in the shadows! How can I now hope to fully savour my substantial LP collection without one?
VERDICT
Anyone serious about getting the best from a substantial LP collection, in particular those who listen to classical music or intimate jazz, should consider the Zyx 4D moving-coil. It represents a significant advance on its previous Airy 3 models, good though they were, and it's difficult to imagine there's much more information in those LP grooves that it fails to dig out.