| | | | |
| --- | --- | --- | --- |
| | Michell Orbe | | What Hi-Fi |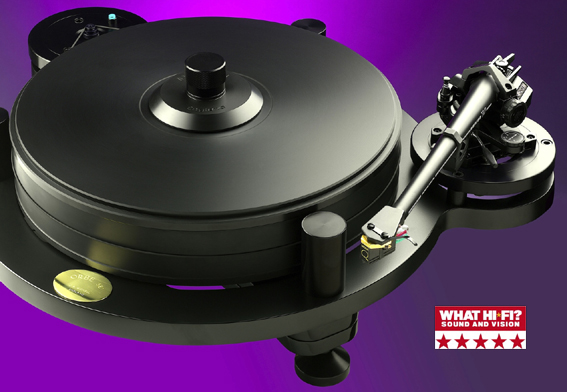 Our Verdict - WHAT HIFI REVIEW
The Orbe is more than a decade old and remains a brilliant buy.
Don't buy anything else without hearing this deck first.
The Michell Orbe has been in production for well over a decade. When it first appeared back in 1996 it was considered a massively expensive deck, priced as it was at just a fiver less than two grand.
Today, the Orbe SE does away with the large acrylic plinth and lid of the original, and retails for around 10 per cent more. Compare that to the doubling (or more) in price that most rivals of the time have gone through and it's astonishing just what value this turntable represents today.
Performance hasn't stood still either. Through the years the turntable has been steadily developed with improvements to the motor, arm mounting and power supply.
Our review sample came equipped with Michell's TecnoArm A – a highly modified Rega arm – and a rather nice Benz Micro L2 Wood moving coil cartridge. The Benz Micro costs £670 and is well worth tracking down.
Set-up is simple enough If you're the least bit mechanically minded, the Orbe is easy to set up. The assembly instructions could be clearer and some pictures would be nice, but we reckon most people will have the deck up and running within an hour.
Of course, if you're a bit nervous about building it up, we're sure the supplying dealer would be happy to do the job. The nice thing about doing it yourself is that you can see just how well engineered the deck is.
Everything is machined beautifully and fits just so: there aren't many rivals that better the Orbe's precision engineered feel.
Speakers, keep your distance Like all turntables, this fully suspended deck responds well to careful siting. Keep it as far away from the speakers as you can.
Even if you can't hear the sonic feedback, vibrations caused by the speakers will impair the sound quality massively. Also, make sure you place the deck on a light and rigid platform.
This will give it a good foundation to work from. Take the required care and this Michell will pay you back with a brilliantly accomplished performance.
Authority is the first word that comes to mind. This turntable produces an astonishingly weighty sound with rock solid low frequencies.
Impressive bass performance The bassline from Bob Marley's Stir It Up is as powerful as we've heard, and delves exceptionally deep with breathtaking confidence. Perhaps most impressive is the way low frequencies stay precise and articulate.
It's very easy for powerful bass to be heavy-handed and lack agility, but the Orbe marries an impressive bass performance with a beautifully layered midrange and a delicate treble.
It treads a fine line, combining muscularity with delicacy better than any other similarly priced deck we've heard. Bearing noise and other structural resonances are kept at an astonishingly low level, leaving the deck to produce vivid dynamics and a mass of well-organised detail.
Timing is particularly natural with the Orbe conveying the drive and sheer emotion of Nirvana's Nevermind set with immense skill.
TecnoArm is a worthy addition Part of this performance comes down to just how good the TecnoArm is, too.
It's possible to partner the Orbe with far pricier alternatives and we have no doubt you would get a better sound. However, when it comes to performance per pound, we struggle to think of an alternative we would prefer.
The TecnoArm may just be a modified Rega, but the changes, which include a drilled arm tube, better wiring and revised counter weight, have made an already great arm appreciably better.
The Orbe was a great deck ten years ago and it's an even better buy today. There's nothing to criticise here. If you want a top class turntable and don't want to spend more than three grand on a deck and arm combo, audition this one. You won't regret it.